July felt like a month and a half! It went really quickly and so much happened. I felt some serious stress at times, but it paid off. I did an escape room, experienced probably the hottest day so far (which is terrifying), and had a good month all round.
Due to all these changes, my favourites blog is a few days late. Having no WiFi and being an Internet addict is not ideal. Here is what I've loved this month.
Fresh Off The Boat
After hearing praise for this American sitcom, I knew I had to give it a try. I saw it on Amazon Prime and binged the first four seasons in just over a month. It's fantastic. I love the 90s setting and how it's presents a believable, authentic Taiwanese-American family. But the best part is the incredible cast. Randall Park and Constance Wu are always good, but in this they really shine as the sweet and dorky dad Louis, and competitive and tough mum Jessica.
The kids are just as good and I can't wait to watch the next season. Big recommendation from me.
No.6 Collaborations Project
Whether you like Ed or not, it's hard to deny that he's talented. I didn't expect to enjoy his latest collaborations album, because I liked Divide so much I didn't think I would catch onto a whole album of features. However, it's been pretty much the only album I've listened to in July.
I particularly love Feels feat. Young Thug and J Hus (I wish it was longer), Beautiful People with Khalid and Take Me Back To London with Stormzy. Teddy has collaborated with a lot of my favourite musicians at the moment and some of the results are brilliant. I love this album.
My favourite murder
I've had a new favourite podcast every month for the last few blogs, so I can't find any more because I don't have enough time to listen to them all! I wouldn't say I'm a huge true crime fan, but I am fascinated by some parts of the genre. I started listening to this podcast as it was constantly recommended to me and it's fantastic. Karen Kilgariff and Georgia Hardstark are hilarious women, incredibly clever and interesting too. At first I only wanted to hear about the murders, but now I've listened to a lot of them I find it just as interesting to listen to Kilgariff and Hardstark talk about themselves.
Chasing Happiness
On one of my days off this month I finally sat down to watch Chasing Happiness, a.k.a the Jonas Brothers documentary. I wouldn't say I was a huge JB fan as I never got to see them live and only bought their albums, rather than merchandise or other investments, but I was a fan. They were important to me. I wrote before about making friends online and I made quite a few through our shared love for these guys.
The documentary is a must-see if you are a fan of these lads. It's beautiful and quite emotional, but also shows that they are more than just a franchise Disney churned out of a machine. They're talented.
I've since downloaded all their albums on my Spotify and I feel like I'm 13 again. It's bliss.
Hi my name is Derek, Vine
I didn't think I had any more Vines to discover, but I found this the other day after watching a compilation and I cannot stop laughing. I can't even watch it back now without cracking up. So stupid, but so good.
Viewings
Due to the busy month, I watched possibly the lowest amount of films during a month this July. I re-watched one of my favourites from 2018, Creed II, as well as Juliet, Naked which I've been really looking forward to. Crawl was a secret screening, which despite the low star rating I found really entertaining. I might go back on my 2 stars, because I had a blast with it.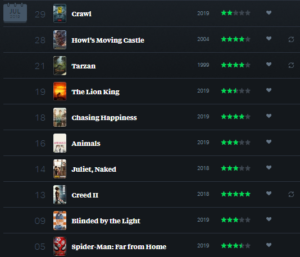 That's all I can remember for now. I know it's a first-world problem to have, but I hope my August brings me WiFi!