Another month, another list of random things I particularly liked these last few weeks. Items typically include: films, books, TV shows, music, podcasts, foods, new products, and other recommendations.
Sally Rooney's Normal People
Finally, I'm getting back into reading. It's a slow start, but I'm getting there. This month, I tripped and fell in love with Sally Rooney's Normal People. Oh this book! It's lovely. I knew from the description that I would like it, as it's my kind of style. It's fairly easy to read (but by no means a criticism of Rooney's writing) and not much happens: which seems to be my favourite kind of novel. Normal People follows Connell and Marianne who sleep together during their final year of school and follows them for the next few years at university.
I found it emotional, yet comforting. I stayed up later than usual one night because I couldn't leave Marianne and Connell alone, I had to see what happens next. If you liked One Day by David Nicholls, Miss You by Kate Eberlen or Where Rainbows End by Cecelia Ahern, you'd like this.
Dolly Alderton's Love Stories Podcast and book
Another book I read this month was Dolly Alderton's Everything I Know About Love, which I recommend to everyone. It's a brilliant, personal book about friendships, growing up and love. Equally as good as her book is Alderton's podcast, Love Stories. I've listened to a handful of episodes and have found it just as emotional and lovely as the book.
Derry Girls series 1 and 2
Like always, I'm late to it but Derry Girls is magnificent! I binged the lot in a couple of days and am gutted there's not more to dive into because it's a delight. Firstly it's hilarious, and secondly I adore the representation of the 90s and female friendships.
Thinkin' Bout You – Ciara
This funky bop is so addictive. The music video mimics a scene from Pretty Woman where Julia Roberts is in a big bubble bath and dancing to Kiss by Prince, which is exactly how I feel listening to this. I love the 80s love song vibe.
Saturday Nights scene Rocketman
I could watch this scene every day for the rest of my life and I wouldn't get bored. Rocketman is a really good musical biopic and considering I'm not a fan of Elton John, I thoroughly enjoyed it. Taron Egerton is the best thing about it. His voice, the way he moves, I'm glad he's getting the recognition he deserves.
Booksmart, obviously
I've seen it again since I saw it in May and it's even better. Emotional, hilarious, feminist as hell, and all round glorious. I think I could watch it forever. Perfect film.
Film viewings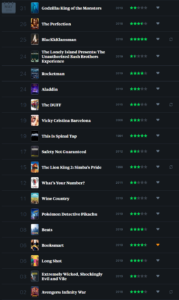 Like I said I'm always late to the party, but this one I'm ashamed of. I finally watched This Is Spinal Tap and it's sooooo funny. I love Rob Reiner. Other highlights of the month include Rocketman (as I explained above) and Beats. Aladdin was a pleasant surprise too.