I was asked to choose my favourite film of the decade for Cineworld, which you can find here along with choices from other writers.
If you can't tell from my last three blog posts (2019 favourites | 2019 films | Decade favourites), I love lists and stats. So I wanted to do something about film in the last decade. It was the decade I was 15-25, which feels significant. Obviously because of my age, I watched more films than ever and really fell in love with them. Over the last few weeks, I've worked out I roughly saw 732 2010-2019 U.K. Releases (more about the rules I use for counting films from different years), but some of those I watched within that year and others I've caught up on. With the exception of 2019.
It's only an estimate, as I'm sure there's a handful I've missed.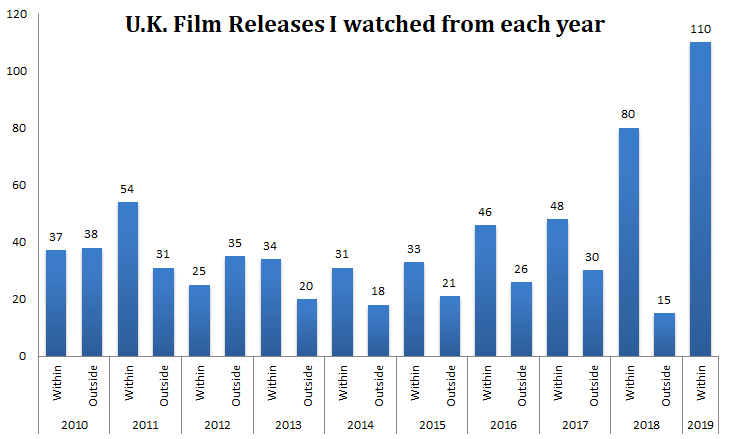 Out of 732, I chose 20 of my favourites that I would happily watch at any given moment, or recommend to people often. I love these films for no other reason than because I simply do.
20 favourites from the decade (in no particular order)
The Social Network
Booksmart
Lady Bird
True Grit
The Fighter
Submarine
Super 8
Magic Mike XXL
Gone Girl
Before Midnight
Moonrise Kingdom
Kubo and the Two Strings
Hunt for the Wilderpeople
Paddington 2
The Big Sick
Moonlight
The Way, Way Back
The Peanut Butter Falcon
Get Out
The Martian
Honourable mentions from the last decade I loved a lot too that just missed out of the top 20:
Mindhorn
Star Wars: The Last Jedi
This Is The End
Drive
Arrival
Creed II
The Edge of Seventeen
Let me know your favourite films of the decade too.