I've found the January to February transition the same for the last few years, probably due to my post-university full time work routine. January drags and apart from a couple of birthdays, doesn't feature any particular excitement. February on the other hand feels really good, but flashes by. Despite the shorter month, there has been a lot I've loved.
Lewis Capaldi's social media and music
No word of a lie, quite possibly the best part of February was this guy's Instagram stories. The world is so glum at the moment, but I can assure you by following Lewis Capaldi on social media you're in for some laughs. If you didn't already know, he also has the singing voice of an angel and Someone You Loved is another of my favourite things this month because the song is a beauty, he deserves world-wide fame and all the love. Gutted I missed out on tickets to his tour and so happy he is officially the UK's #1.
2009 vs 2019 pic.twitter.com/VyKlJylPgr

— Lewis Calamari (@LewisCapaldi) January 15, 2019
NASA – thank u, next
Unlike the entirety of sweetner, which I fell in love with almost instantly, thank u, next took a couple of weeks to get used to. I'm now at the stage where I believe the whole album is a career-defining achievement for Ariana Grande, and I love how she's managed to capture the extreme range of emotions given the roller coaster she's been through lately and put it to music.
NASA is my bop, but I love ghostin and imagine too.
The few good BAFTA and Oscar moments
Olivia Colman is the BAFTA and Oscars QUEEN. Her speeches! She is so pure and truly excited to be at these events. Colman is such a deserved winner for her fabulous performance as the eccentric Queen Anne in The Favourite. The Best Actress category has been the saving grace of the 2019 Award Season.
The Queen's Speech.
Olivia Colman, we love you 🇬🇧 #Oscars pic.twitter.com/Sr6JuXZ3Nh

— Sky Cinema (@SkyCinemaUK) February 25, 2019
Similarly, I have adored all the love for Spider-Man: Into the Spider-Verse which is one of the best animated films for years. Yeah I said it!
New sanitary items
Not sorry if this is TMI for people. Skip ahead if so, though I believe learning new things about the body's natural routines is worthy. I've always been quite open when talking about periods, but recently I find myself bringing up the subject more because I genuinely love hearing different experiences and learning additional period info. I'll write a dedicated blog post eventually, however it is worth mentioning that I actually enjoyed having my period this month while I'm testing out new eco-friendly products. I've been trying the Mooncup for a few months and finally feel comfortable with it and I also used ModiBodi's knickers for the first time too, which I was so pleased with I've brought a few more pairs. I'll post more about my experiences soon, but to summarise: so far so good!
What I've watched this month
Film and TV wise, I've been to the cinema a few times this month, and also caught up on a films I should have watched by now. Velvet Buzzsaw on Netflix is worth watching in my opinion. It's not everyone's cup of tea, but keeps you on your toes.
Fighting With My Family has been the best film of February, despite not knowing much about WWE still. It's funny, sweet and a Brit-hit!
TV has been trying different shows out but nothing I've been hooked on, however I binged Instant Hotel in less than a week. The contestants are sooo snakey!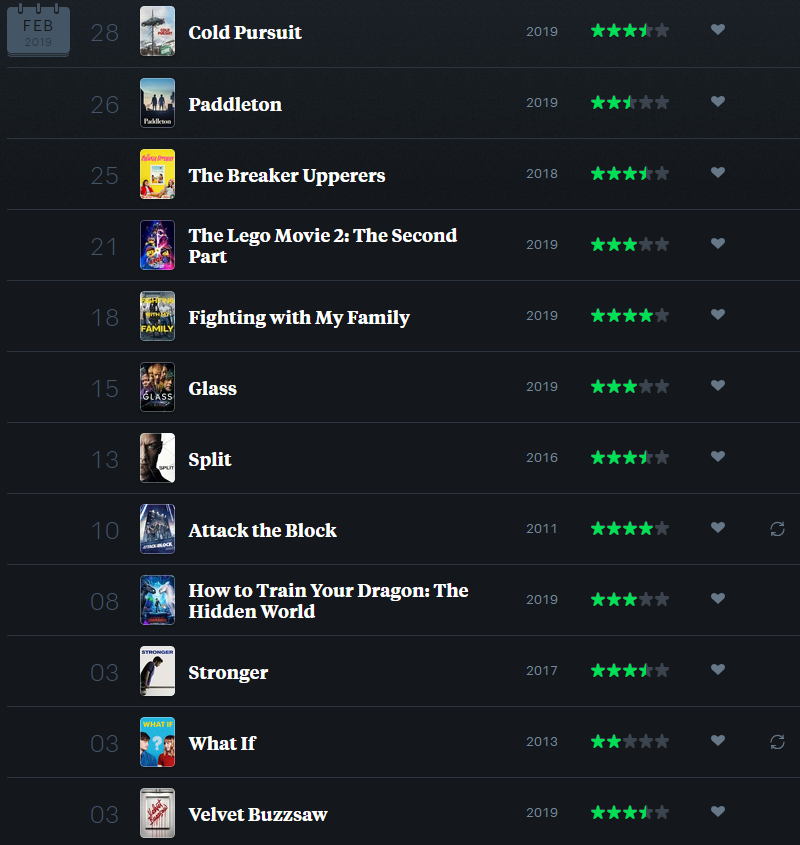 Favourite tweet of the month
You dumb dildos. Ratatouille is the name of the dish and the movie, NOT the rat. His name is Remy. God damn, y'all need to pay attention.. This is exactly why most of you can't keep a relationship.

— huda 💋 (@ixohuda) February 20, 2019
I hope you've all had a good February.