I am reflecting on the good things I've discovered and enjoyed in 2018, before I feel sad, sentimental and nostalgic like I usually do when the New Year is approaching. My top 10 films of the year will come later, in case I see something in the next week that makes its way onto my list. For music, books, TV and more, here is my happy little list of things I've loved this year.
EDIT: I remembered I saw another 2 West End shows this year: Hamilton and Everybody's Talking About Jamie. After loving Hamilton for years and purchasing tickets a whole year before, the show was worth the wait. Jamie was equally as glorious. Two other recommendations.
Music
2018 has seen the return of a few of my favourite musicians, introduced to me to new ones and Lin-Manuel Miranda has continued to produce a Hamil-drop each month so my ears have had a good year. I've limited myself to 5 highlights.
sweetner – goodnight n go
I loved the whole album, but Ariana Grande's remix/cover of Imogen Heap's Goodnight and Go has been my most-played song of 2018.
First Burn – Ari Afsar, Julia Harriman, Lexi Lawson, Rachelle Ann Go, and Shoba Narayan
This Hamildrop completely transforms final song that was used in the musical and gives Eliza an angrier tone and provides her with some Angelica-esque witty lines. I love this.
This Is America
Childish Gambino is God. Not only are the lyrics and music video incredibly important, it's a great song too.
A Star Is Born Soundtrack
All of it. ⭐
Whatchamacallit – Ella Mai
I wrote about Ella Mai's EP a couple months ago and I'm still in awe of her talent. Whatchamacallit is a banger.
Books
Still haven't read as much as I was hoping to in 2018. I'm changing that in next year.
Feminists Don't Wear Pink (and other lies)
Curated by Scarlett Curtis. If I had to recommend one book, it's this. Regardless of age, gender, sexuality, race, this book is for everyone. Charlie Craggs, Alison Sudol and Liv Little have written my favourite essays, but in all honestly each one was an eye-opener.
Feminism to me and the writers in this book includes everyone and hopes to make the world better for everyone.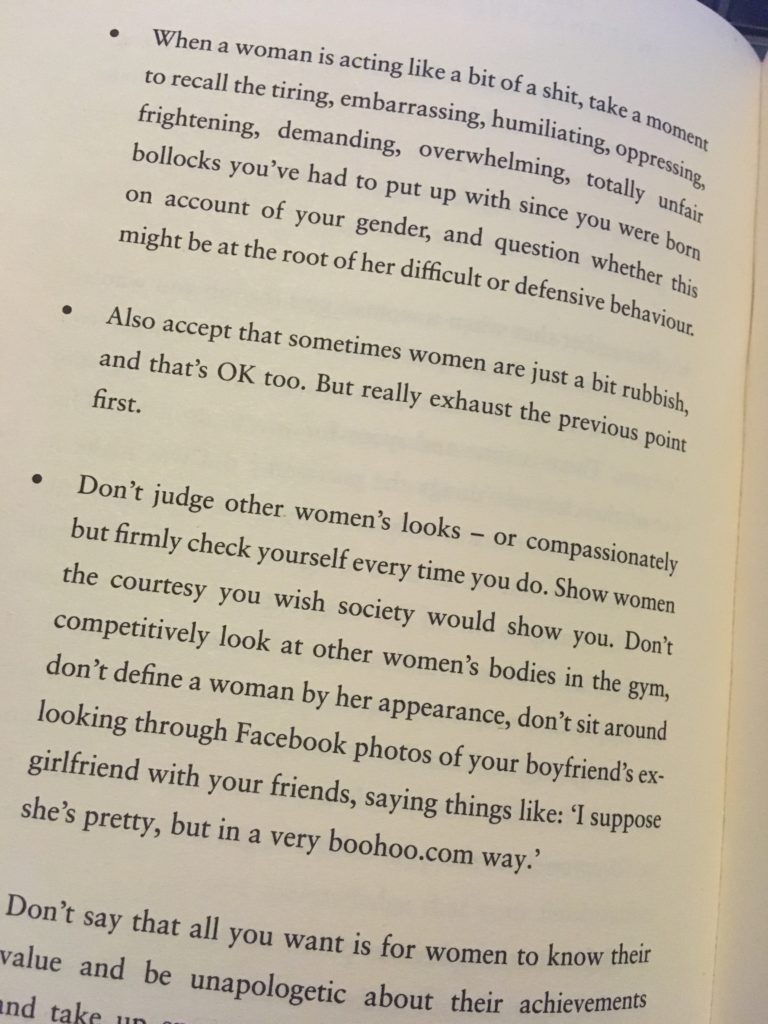 Eleanor Oliphant is Completely Fine by Gail Honeyman
I had to read this after hearing that Reese Witherspoon's film company Hello Sunshine got the rights to adapt it. The novel is fictional, but realistically presents adult loneliness. The story at times is funny, characters are interesting and three dimensional and I definitely didn't see the ending coming.
The Note by Zoë Folbigg
I love a cheesy romantic book, especially when they're based on real life! Folbigg's debut is based on the true story of how she met her husband, on her commute to her job in London.
TV
Even without Game of Thrones this year, I reckon I've seen some of the best TV in the last decade during 2018.
Big Little Lies
I started the year well by finally watching HBO's Big Little Lies. From the top-class female cast to the sharp, intelligent script, BLL is addictive and there's no surprise it's getting a season 2 despite the fact it was intended as a limited series.
Sharp Objects
Another excellent limited series, based on the novel by Gillian Flynn. Directed by acclaimed filmmaker Jean-Marc Vallée (the same director and producer as Big Little Lies) and starring the always incredible Amy Adams, this psychological thriller will keep you hooked. It's beautifully filmed and I'm sure it's going to sweep Editing awards this upcoming award season. Vallée's TV series are basically mesmerising 8 hour films.
Atlanta (S2E7 Teddy Perkins)
I don't know why I'm including this in my favourites after it literally induced nightmares, but it's possibly the greatest episode of television ever. Atlanta's charm is that it's intelligent and each episode is different, but Teddy Perkins was something else entirely. I've watched every theory on Youtube, read every Reddit thread and I still don't quite know what the hell was going on.
Queer Eye
The loveliest people in the world doing lovely things for people who deserve lovely things.
The fact that Brooklyn Nine Nine was resurrected
Thank You NBC.
Things
Sleep Bra – Bravissimo
The best item of clothing I've brought this year. If you're debating buying something like this to support you in your sleep, I recommend these.
Chilly's Bottle
I've blogged about these before and tell everyone online and in person about how good they are. Truth is, there are dozens of brands out there that do the same thing. Reusable bottles that keep your liquids hot or cold are a must-have in my opinion and my ones are from Chilly's.
Sleepy by Lush
I was gifted Sleepy at the end of last year for my birthday, but this is the year I felt the benefits. Fresh sheets + Sleepy = best night sleep ever.
2018 has been great to me. I can't wait to try and make 2019 even better.
Let me know what you've loved this year, whether it's an album or a purchase. My top 10 films of the year will be published next week.