It might be a lot less than those I follow on social media, but I've made an impressive attempt at watching as many Oscar nominated films for 2021. That's even with the fact that cinema watching and film distribution has been anything but normal in the last year.
I've seen 43/56 films, just over three quarters at 76% which is the highest I think I've ever seen pre-show. Everything I've watched has been through official ways, which is why the last few I've missed because the U.K. still to this day gets films many months after our pals across the pond.

In terms of my personal ratings, The Trial of the Chicago 7 is my highest rated of the bunch (it was my favourite film from 2020 too). Everything else falls just under this, but honestly I loved all of the following the same:
The Father, Minari, Crip Camp: A Disability Revolution, The Mole Agent, Ma Rainey's Black Bottom, Sound of Metal, The Present, Love and Monsters, Promising Young Woman, Da 5 Bloods, Wolfwalkers, Over The Moon, and Onward.
Nomadland is the the big predicted winner I haven't yet seen, but will rectify this when it's on Disney+ in the U.K. next weekend. It's awful from me that I haven't seen any International Features this year, though that's more to do with the fact that none of them (bar one) are available to watch in the U.K.. I'm dying to see Another Round.
Nadine's Predictions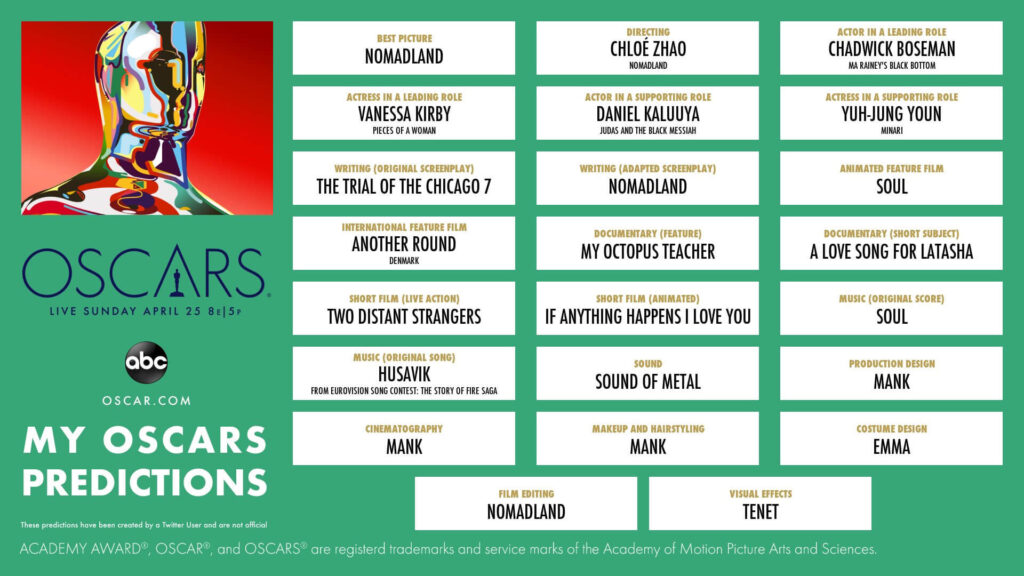 Nadine's Dream winners