Instead of thinking about how gloomy and awful 2020 was, there were good things I watched, listened to, read, and enjoyed (most of which was due to having extra time for these things and there was nothing else to do!). Here are those things from 2020.
Film
I watched 96 U.K. 2020 film releases during 2020. Not many of those were in the cinema for obvious reasons. It was a weird year for film. With many delays, closing of cinemas, 2020 film seems weird. Would my top 10 favourites be the same had the year been different? Most likely.
Top 10 favourites of 2020 (U.K. release):
The Trial of the Chicago 7 (Netflix)
Parasite (Cinema)
Jojo Rabbit (Cinema)
1917 (Cinema)
The Invisible Man (Cinema)
Babyteeth (Netflix, on 31st December – late entry!)
Onward (Cinema)
The Broken Hearts Gallery (Cinema)
Lovers Rock, Small Axe (BBC)
Da 5 Bloods
Additional 2020 film highlights: Hamilton (had already seen it live, so it's great to be able to have seen the original cast), Folklore: Long Pond Studio Sessions, A Secret Love, Bad Education, Ma Rainey's Black bottom, Dating Amber, David Copperfield, On The Rocks, Spree, Jingle Jangle, Work It, Uncut Gems, Happiest Season.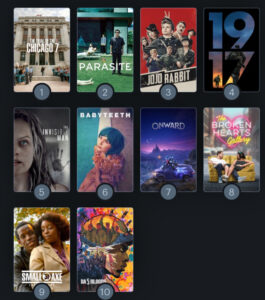 TV
A (rough) ranking of my favourite 2020 shows this year, however I loved them all especially the top 5.
The Mandalorian (season 2) [Disney+]
I May Destroy You

(BBC)

The Umbrella Academy [Netflix]
Sex Education (season 2) [Netflix]
Ted Lasso (season 1) [AppleTV]
After Life (series 2) [Netflix]
Schitts Creek (season 6) [Netflix]
Normal People [BBC]
Love Life (season 1) [HBO/BBC]
The Boys (season 2) [Amazon]
Additional 2020 TV favourites: The Queens Gambit [Netflix] and of course the latest This Is Us and Taskmaster series were great as usual.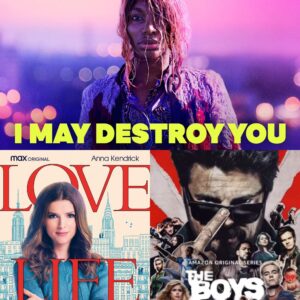 Music
I can't rank my 10 favourite songs of the year, so here is a muddled mess of them. Two songs from Taylor Swift, which is what I expected after a surprise two album release.
Juliet and Romeo – Martin Solvieg
Break Up Song – Little Mix
Time – Jack Garret
Rain On Me – Lady Gaga Ariana Grande
WAP

– (feat. Megan Thee Stallion) – Cardi B

august – Taylor Swift
Looking For Me – Paul Woodford
Dynamite – BTS
positions – Ariang Grande
'tis the damn season – Taylor Swift
Additional 2020 music favourites: Freaky Girls (feat. SZA) – Megan Thee Stallion, I Love You's – Hailee Steinfeld, Really Love (feat. Craig David & Digital Farm Animals) – KSI, exile (feat. Bon Iver) – Taylor Swift, off the table (with The Weeknd) – Ariana Grande, Holiday – Little Mix.
Books
I read 12 whole books this year, which is huge for me seeing as I hadn't read more than four books a year (non-university related) since pre-2013! There was only a couple that I read which were specifically 2020 releases, my favourite of which was:
My Dark Vanessa – Kate Elizabeth Russell
Other books I read during 2020 which I loved include:
The Seven Husbands of Evelyn Hugo by

Taylor Jenkins Reid

Mythos by Stephen Fry
Queenie by Candice Carty-Williams
Why I'm No Longer Talking to White People About Race

by Reni Eddo-Lodge

Girl, Woman, Other

by Bernardine Evaristo
Others
Other things I loved in 2020.
Games
I'm not a gamer so it's not something I do often, but in 2020 there was more than one game I enjoyed.
Overcooked 2 on the PS4
Fall Guys on PS4
TY the Tasmanian Tiger remastered
Zoo Tycoon
Rollercoaster Tycoon
Animal Crossing (late Christmas present)
Misc
The year of quizzes – I like a quiz and at one point I did feel quizzed out, but it was nice that they brought people together during 2020. I especially loved my friend's weekly quiz every Sunday, Lizzy.
Memes/Internet things – I can't remember many of the year, but ones I did love was the Ice Age Baby meme video and that photo of the man being dragged.
Reading again in general – I haven't read much in many years, so this year while the pandemic had many negatives, having more time to read was a nice positive to the year.
EMK HIIT – My friend sent me some Disney Channel music dance workouts in about April time. After finally enjoying going to the gym pre-pandemic, I was gutted that my fitness journey was going to be cut short after only just starting. I hate exercise. I still haven't found an exercise I like as I was only just about ok with doing a run each time I went to the gym and I don't know running outside. EMK HIIT's dance workouts though are fun, short, and have great music so it's something that has kept me active during the year. While I wish I could go back the gyms (I don't feel safe enough to yet), these have helped make sure my body still moves.
I started 2020 writing for my favourite cinema chain, blogging more frequently (I posted about my eco-period journey, coming off the pill, and a couple of other things throughout the year), commuting to work, seeing friends and family – all things I took for granted. In 2020 I took life slower because I had to and while I would like nothing more than life to go back to normal, one positive is that I I found I enjoyed a slower life. My mental health has taken deep dives through the year, which has been unavoidable, but I think this slower life has helped it.
Therefore I won't be putting as much pressure on myself to update my blog frequently. I plan on still adding things, most likely my personal monthly favourites because they help me, but it won't be a pressure on myself.
Apart from that, I hope 2020 brings some good in terms of the pandemic and we see improvements. I hope I to spend as much time with those I care about it, make more effort in keeping in touch with friends, love my body, make more eco-friendly changes, and continue to live life at a slow pace.