One of my favourite months didn't feel so normal this year. It's hard and it's getting harder as the U.K. goes into another lockdown. When we are on the other side of this, I will be glad I kept a note of the things I was liking because, while it doesn't seem like I'm having any fun right now, it will be nice to have proof I didn't just stare at the wall for months.
Weekend away
I went away for a few days to celebrate my birthday to the Cotswolds, which was everything I needed this month. To get away from the same four walls and breathe in air that wasn't from the town I've been stuck in for months was good for my soul.
With three people who are really special to me, laughing loads, drinking and not worrying about getting home, playing games until the early hours of the morning. I had a great few days.
positions and music
I loooove the new single. It's upbeat and sexy, Ariana's voice is stunning and I adore the music video too.
It will take another couple of weeks of listening before I can decide if I feel the same about the entire newly released album though.
There are a bunch of other songs I've been really enjoying this month too. BTS –
Dynamite,
Tate McRae –
you broke me first
, Diplo and Paul Woolford –
Looking for Me
. I also listened to Ingrid's Michaelson's
Stranger Songs album
, music inspired by the TV show Stranger Things, a lot. Particularly loving Missing You.
Baked goods
Buying some cookies and brownies (and even a brookie!) from a friend who is a great baker was a great pick me up in October.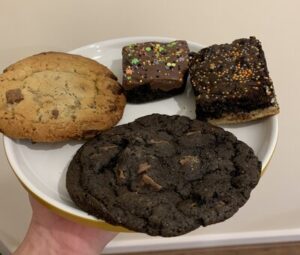 Making vegan dinners
I made myself my first vegan mac n cheese and it was really tasty, despite the fact there was no actual cheese in it. I even added my first try of some fake bacon. I need to make it again.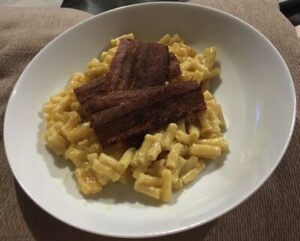 Viewings
The viewing section is becoming the biggest section of my monthly favourites, seeing as all I tend to do now is watch films and TV.
TV
Love Life on BBC iPlayer from HBO is a lovely little 10 episode, 30 minute show telling the story about one person's life through the people they love. Anna Kendrick is always likeable and I could watch her in anything, but in Love Life she really is sweet.
Thought the season 2 finale of
The Boys
gave me the scene I was craving in the form of a non-cliche girl power moment, that perfectly mocked Marvel's attempt in End Game and felt satisfying to watch.
View this post on Instagram
Buzzing that Taskmaster is back. I usually take a couple of episodes to get familiar with the contestants for the series, but from the beginning I really liked the five for series 10. Doesn't feel like the quality of the show has been affected by the pandemic either, which is nice.
The end of the month brought the return of This Is Us and The Mandalorian, even though I'll have wait for weekly episodes. Both had cracking first episodes. I'm sure to cry at the rest of season 5 of This Is Us and in each episode of The Mandalorian I'll be scanning the screen to make sure Baby Yoda is safe.
While waiting for new episodes of the above I've been rewatching Parks and Rec after concluding my rewatch of The Office. Still so good.
Film
Inspired by the EMK Fit High School Musical workouts, I thought it was about time I tackled the HSM films seeing as I'm rewatching a lot of things this year. It was sooooo good. The music, the dances, the story. It felt comforting to revisit them and I loved sharing my thoughts on my instagram stories and speaking with others about it. I urge you to rewatch these films if you haven't seen them in years while in lockdown number 2; they can cheer you up instantly.
This month I watched a contender for my favourite film of the year: Aaron Sorkin's The Trial of Chicago 7 on Netflix. Obviously the writing is more than impressive, that's a given. For a film that's over 2 hours it keeps you hooked. A typical Sorkin court room drama, with flashbacks to tell this real life story, plus top performances from a terrific ensemble. Yahya Abdul-Mateen II, Mark Rylance, Sacha Baron Cohen and Eddie Redmayne are all class, but Jeremy Strong continues to prove he's one of the most talented actors around after his Emmy win this year. I loved it.
I sobbed through Sony Animation's gorgeous, touching, animated musical
Over The Moon on Netflix.
Thought it tackled grief and depression/mental health in a way that is accessible for younger audiences, had good songs and was visually beautiful.
During the month I also caught up on some great films I should have seen by now like Sense and Sensibility (gorgeous), The Meyerowitz Stories (enjoyable), and Selma (excellent).