Now that I'm compiling a list of favourites each month they seem to be moving even quicker than usual. April was a nice month. Easter weekend was beautiful and everything else around it has been pleasant, including these things:
Waitress
This month I got to experience a West End show I've been intrigued to see since I heard it was making it's way over from Broadway. I watched the film Waitress about ten years ago on Film4, as I had seen that Keri Russell starred in it. I enjoyed it and, no pun intended, found it sweet.
It was adapted into a musical a few years ago, but the thing that attracted me was that the music and lyrics were written by the talented, brilliant Sara Bareilles. After seeing it I can confirm that Waitress is truly scrumptious [pun intended this time].
Waitress is one of those shows that had me laughing one moment, then crying the next. I wanted to wrap every single character up into a blanket and cuddle them (except for Earl), as well as wanting to go to the nearest diner afterwards to demolish a pie. The cast are fantastic, but after listening to the Broadway soundtrack and comparing voices, my favourite was Jack McBrayer as Ogie. McBrayer has a fabulous stage presence, the audience were laughing with him and he won us over. I feel lucky to have seen him live. There's no doubt though that the magic comes from Bareilles' music.
The songs are just like her music; idyllic and delicate, but have moments for the performers to really amplify their voices. The lyrics are both perfectly realistic and dream-like, which is exactly how I feel when I listen to Bareilles' music usually. I've had the sweet, gentle sounds of 'sugar, butter, flour' stuck in my head for weeks now, but I'm not complaining.
My favourite songs are: Bad Idea, You Matter To Me and Opening Up. If you're looking for your next West End visit, I would consider this. Sadly, none of the videos on YouTube do it justice.
The return of Game of Thrones and A Cast of Kings
I can't believe there's only three episodes left. Season 8 has been a treat so far, with tension, revelations, dragons, battles, deaths and one moment so epic I wooped. WOOPED.
Equally as good as the show is the return of A Cast of Kings, my favourite Game of Thrones podcast. Joanna Robinson and David Chen dissect each episode, noting any themes or personal highlights and they discuss moments I never even noticed. As far as I'm concerned, Robinson is the most knowledgeable Game of Thrones/A Song of Ice and Fire expert to exist and I'm going to mourn the end of this podcast series as much as the end of Game of Thrones.
It's also worth noting that the #Gameofthrones memes have been better than ever in 2019.
The Receipts Podcast
Another podcast recommendation, because I never knew I was missing this podcast from my life. The three girls behind The Receipts Podcast discuss everything and anything from relationships, family, work, sex and more. They upload once a week with a biweekly programme of a discussion episode around one or two topics, and an agony aunt style episode called Your Receipts. These are my favourites, because the hosts share great advice and they don't shy away from their opinions. If they think you have been wrong, they'll say it.
Films
April has featured some of my favourite films of the year so far. A straight to streaming service special, a coming-of-age comedy drama drowning in cringe and arguably the biggest blockbuster to exist.
Guava Island
If you know me, then you know I love Donald Glover. Guava Island is his latest project with brother Stephen Glover and frequent collaborator Hiro Murai (director of Atlanta and the music video for This Is America). It's Murai's first feature film, though it only clocks in at 55 minutes.
I've read a few criticisms that Guava Island hasn't got enough of a story to be a good feature length film and also not enough songs to be a musical. But I liked that it was short with a simple storyline and the songs that featured. The only thing I didn't like is that Guava Island stars Rihanna but she never once sang! How can you have Rihanna in a film about music and not give her one song to sing?!
If you have Prime, I'd recommend checking it out.
Eighth Grade
It was almost 9 months after it's release in the US, but the U.K. finally got Bo Burnham's critically acclaimed directorial debut Eighth Grade. I went to an early screening in April and while it was worth the wait, I wish I saw it sooner. I don't know how Bo Burnham does it, but he nails the struggles and anxiety that come with being a teenage girl perfectly. Moreover, the film demonstrates the impact of social media on the lives of teenagers today. Even though I was a teen 10 years ago and had MSN, Facebook, Twitter and more, it's scary to see how much more reliant social media has become for teens in the 21st century.
The highlight of the film is Elsie Fisher as Kayla Day, the teen who awkwardly moves her way through school, trying to make friends and find herself, all the while making YouTube videos about how to get confidence and be yourself. From the moment the film starts you really feel for Kayla and I think the film has been a success because everyone sees a bit of themselves in her. I can't wait to see everything Elsie Fisher and Bo Burnham do next.
Avengers: Endgame
The biggest movie event of the year. Endgame has already broken records and it's set to beat Avatar in a matter of weeks to the top of the highest-grossing films list, and deservedly so.
I've already seen it twice so I can be certain of my feelings towards it and also just to experience it again. In both screenings I didn't hear a noise, apart from a rumble of a popcorn bag, because everyone was taken by the film. It's three hours, but each hour is dedicated to a part of the narrative so I think the hours fly past.
While I had a few issues on my first watch with how a couple of characters were treated, one thing is certain and that is that Endgame is for the fans which is has every right to be and it works. I think you get out of this film what you've put in. If you've been a dedicated fan, then the Easter eggs and callbacks will touch you. If you have only seen Iron Man then I think you'll still enjoy the film, but you might be lost as to why someone next to you is crying.
"Fan service" is often used as a negative criticism, but for Endgame I think it's the highest compliment. Not many films could get away with it. It's hard to talk about it without spoiling it, so I won't say anything other than it's an achievement. I'm already looking to go again.
I watched a lot of films this month…
My monthly diary has been a huge one for me and honestly I'm exhausted. I need some good TV shows! A few re-watches, but mostly new things to me. I had a week off work in April, hence the sudden influx of films at the end of the month, where I managed to get through a lot of films that had been sitting on my Watchlist for a while.
My highlights I've already mentioned in detail, but it's also worth looking out for Lady Macbeth (2016) on BBC iPlayer because Florence Pugh is sensational and Someone Great (2019) on Netflix, because of the way it depicts female friendship.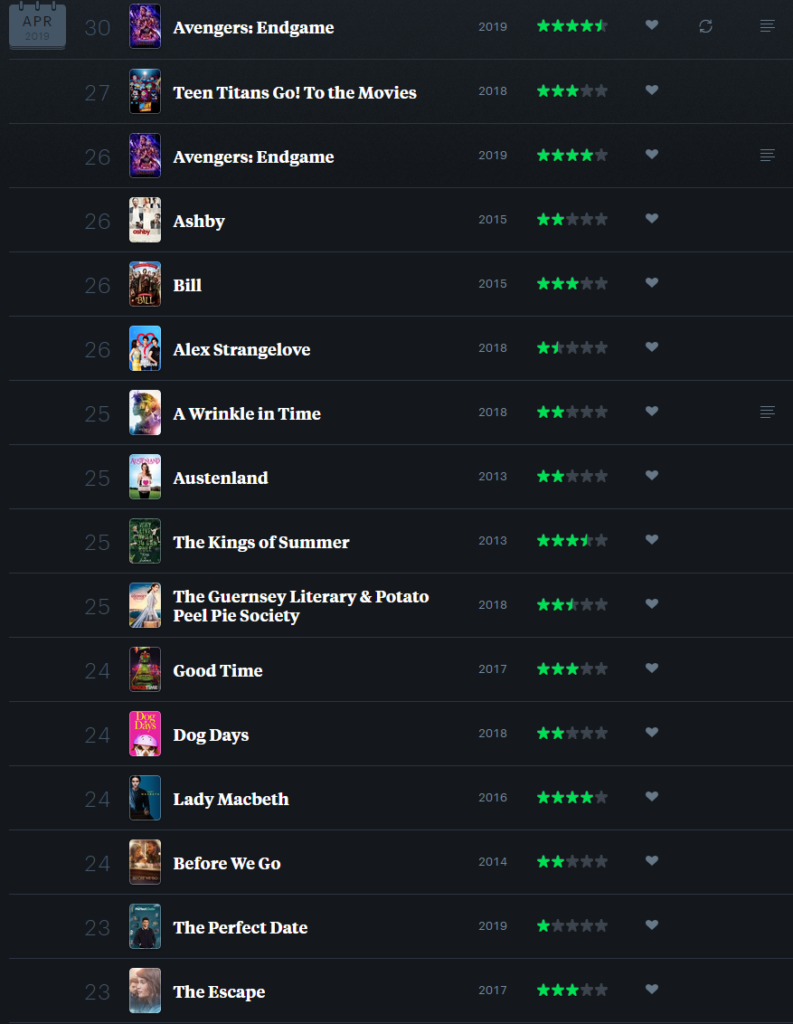 My favourite tweet this month
Like I said above, Twitter has peaked this month. The Game of Thrones memes in particular are wild. It took a long time, but I decided on my favourite tweet of the month:
Thanking you if you've read this far. I'm hoping May is a great month for all and that fingers crossed we all manage to cope with the finale of Game of Thrones.