January is always the longest month due to the fact we all feel the post-Christmas blues and pay day is a little further away. But it's also a month of new beginnings and changes. I've taken advantage of the fresh start and made some changes to my everyday life like becoming pescatarian for the environment (I wasn't really a meat-eater before), practising mindfulness, doing yoga to help my back and more. I have other goals for the year I am yet to start, like reading more and finding a new creative hobby, but so far the first month of 2019 has been rather pleasant. Here are some highlights:
JoJo's first albums being re-released
When listening to 00s playlists, to relive my pre-teen years, I noticed that JoJo didn't have any of her early music on Spotify. Turns out her previous record label removed her music from streaming services because of a contract, so JoJo re-recorded her first two albums and released them in December. JoJo's first album was one of the first CDs I remember owning, so I love that I can listen to her songs again.
Dancing With A Stranger
Another bop. I loooove this.
Eating veggie foods again.
I was a pescatarian for a couple of years when I was teenager, but eventually went back to eating meat for ease, seeing as I wasn't cooking for myself. But being a pescatarian again in 2019 is much easier; there are so many great meat-free foods and alternative options out there now. The Quorn range has improved and I am in love with everything from Linda McCartney. Particular favourites include the Quorn Crispy Nuggets (actually taste as good as chicken nuggets and better than McDonald's nuggets!) and the Linda McCartney Red Onion and Rosemary Sausages.
Friends From College
I don't know why critics didn't rate this comedy series. I think it's well written, the cast are brilliant together and it's absolutely bloody hysterical. Plus episodes are only half an hour, which is always a bonus when finding a new TV series. There are some moments in season 2 that I had to pause from laughing so much, sometimes because the comedy is so dark but also due to how cringe-worthy all the characters are.
From previous shows and films I was already a fan of Keegan-Michael Key, Cobie Smulders, Billy Eichner, Nat Faxon and Fred Savage, and now I love Annie Parisse and Jae Suh Park too. Would love it to be renewed, as I could easily watch another 8 seasons to see how these fools get through the next few years of their life.
Award season
The best time of the year 🎵🎶
What I've watched this month
I watched a lot of TV, more than usual for me. Friends From College season 2, A Series of Unfortunate Events the third and final season, Great News both seasons and more. I only watched one film at home, which was a re-watch, everything else has been in the cinema. Here's my month on Letterboxd.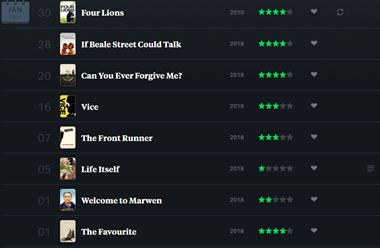 February brings Thank U, Next the album, the Oscars and BAFTAs and finally the release of Boy Erased, which I'm dying to see!
Hope you all have a good one.